---
Lobov: Khabib-McGregor not as simple as grappling vs. striking
October 03, 2018
---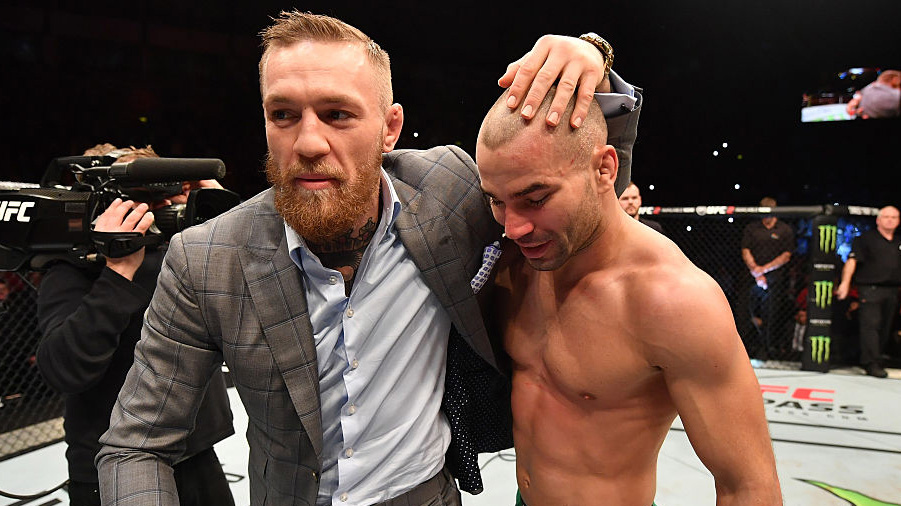 To many observers, Saturday's highly anticipated UFC 229 main event between lightweight champion
Khabib Nurmagomedov
and Conor McGregor is a simple fight to break down.
McGregor keeps it standing, he wins.
Nurmagomedov takes it to the mat, he wins.
Simple.
Not so, says McGregor's longtime friend and teammate, Artem Lobov, who believes that if this weekend's bout hits the ground, it won't be as lopsided as most think.
"Of course it's not that simple," said Lobov, who returns to action on the UFC Moncton card later this month against
Zubaira Tukhugov
. "Conor's grappling, he never really gets enough credit for it. He is a high-level grappler. You remember Joe Rogan and Eddie Bravo telling the story? Conor walks into Eddie Bravo's gym and says, 'Where are your best guys? Who wants to roll?' And that's it. He just goes in there and starts rolling with guys. And not just one round when he's fresh, which guys often do. He goes in and does round after round after round, putting himself in even more difficult situations by rolling when he's tired and giving an opportunity to his opponent to get the better of him. What does it tell you about him? It tells you that this individual is very, very confident and comfortable on the ground. Otherwise he would not be doing that. But when they describe the Khabib-Conor fight, they make it seem like it's a black belt versus a white belt, which is not the case at all."
Yet while McGregor may be confident in his chances of victory in a ground fight against the unbeaten champion, there is no question that if "The Notorious" one has his way, he would prefer to keep things standing. And not surprisingly, Lobov believes that if it stays on the feet, it might get ugly for "The Eagle" in a hurry.
"When we look at the striking, I'm not gonna say Khabib is an amateur - of course he's got striking and he's been fighting for a long time, so he knows how to strike," Lobov explains. "But let's be honest - in the top ten, who has got worse striking than Khabib? (Al) Iaquinta, better striker, (Edson) Barboza, better striker, Eddie (Alvarez), better striker, (Dustin) Poirier, better striker. All of them are way better strikers, and now you've got a guy (McGregor) who is a better striker than all of those guys that I just mentioned. And not just better, but a million miles better than them. Look what he did to Eddie and to Poirier and to (Jose) Aldo. So in the striking department, there is clearly a very, very big gap in the skill level. However, that is not true for the grappling."


But what of the intangibles that could often be the difference between winning and losing? McGregor has kept a fairly low profile over the course of this training camp, with no one in the media able to get a true read on where his head is at as he prepares for his first MMA bout since beating Alvarez in November 2016. But after the circus leading up to his boxing match against Floyd Mayweather in 2017, one that included a worldwide media tour and seemingly endless hype, McGregor's quiet camp leading to UFC 229 has been a good thing as far as Lobov can see.

"Distractions are never good," he said. "The entertainment part and the selling the fight part of it, that's the business side of things and that's not part of the sport, really. Of course, without money, there is no sport, but for us and everyone else, it's not a necessary part. You just need to train, get your nutrition right and then go out and perform. Those are the only things that matter and that you should be doing when you're getting ready for a fight. So if you have an opportunity to not do all that other stuff, it's always a bonus."

It is fight week now, though, and after an incendiary press conference in New York City a couple weeks ago, the media obligations are ramping up and a final press conference should produce even more fireworks and another chance for McGregor to try and get into Nurmagomedov's head. But whether there's pre-fight gamesmanship or not, Lobov believes that the end result won't change.

"They always say that Conor broke his opponents down mentally, but I don't think that really plays into it," he said. "I think it's the skill that wins the fights for Conor. I've seen him from back in the day, when there was no big buildup to the fight and sometimes you didn't see your opponent until the weigh-in. So there wasn't even a chance for Conor to get into their head. And he was doing the exact same thing to people."