---
Pettis Expects A War With Ferguson At UFC 229
October 03, 2018
---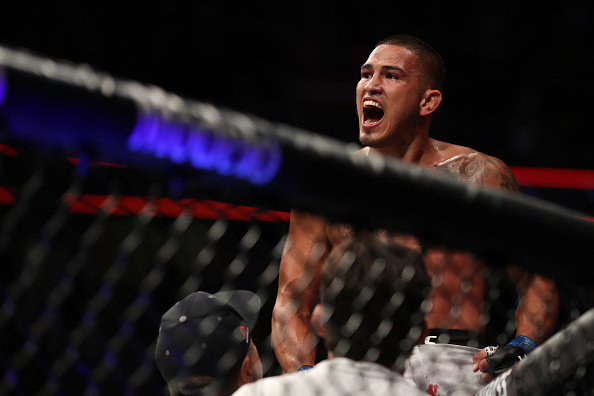 With the media blitz for his UFC 229 co-main event against Tony Ferguson fully underway, I wondered out loud if Anthony Pettis was already tired of talking to us.
He laughed.
"I'm enjoying this one," said the former UFC lightweight champion. "I came into this one energized, ready as hell, dotted my I's, crossed my T's, and I'm ready to go."
When was the last time that happened?
"It's been a while, man. It's been a while since I came into fight week excited about everything. I feel good."
He should. After nearly two years in the wilderness that saw him go from the top of the sport to a fighter with a 1-4 record during a stretch in which he lost his belt, his aura of invincibility and included a rough visit to the featherweight division, Pettis moved back to 155 pounds in July of last year, beat Jim Miller, engaged in a Fight of the Night with Dustin Poirier, and then submitted Michael Chiesa. For all intents and purposes, "Showtime" was back.
Or was he always there, just needing to figure things out?
"Everyone has him picked. Pettis isn't going to beat him. Pettis is old. Pettis is washed up." - @ShowtimePettis is and ready to go in the #UFC229 co-main! pic.twitter.com/2gDpGHgZJe

— UFC News (@UFCNews) October 3, 2018
"This is a whole new version," said Pettis. "The thing that people are referring to is that fearlessness out there. Then I got trapped and talked into being afraid of takedowns for some reason. I don't know why, because most of my wins are by submission, but I let everybody talk me into making these takedowns like they're the make or break of my career, and I forgot to do what I do best, and that's just go out there and be comfortable in the chaos. And I got back to that in this camp. With the Chiesa fight, I knew what he was gonna do. He's a bigger guy, he's gonna hold me on the cage and try to hold me down, and I didn't even address it at all. I said I'm gonna attack him every time he tries to attack me, I'm gonna keep the pressure on him and I'm gonna look good doing it. And it felt good just going out there and being right about it all."
He also reinforced the beliefs of the fans who stuck with him through the rough times, and reminded everyone that for all the flashy moves and jumping off the cage, at his core, he's a fighter. And taking the adversity of 2015-16 on the chin and marching through it proved that point.
"I grew up on the Southside of Milwaukee, I've been in gyms since I was five years old," Pettis said. "This is my life. Me jumping off the cage wasn't just some magical thing that just happened. I put the time in, and that's why the heart's there."
On Saturday, he will meet a like-minded individual in former interim champ Ferguson, and stylistically, the stage is set for a fight Pettis believes will be a special one.
MORE UFC 229:


"This guy's just like me – he likes the chaos," Pettis said. "He creates the chaos and he shines in there. His D'Arce chokes come from scrambles, and I think his jab is probably his most powerful weapon. He dictates with that very well, creates his range, and once he finds that jab range, then he opens up. So I feel like he's the perfect opponent for me to have a great fight. And the same thing for him. We're gonna have a war out there. And whoever's night it is, it will be."

If it's Pettis' night, he will move a step closer to a shot at regaining his title. There aren't many second acts in the fight game, but at 31, "Showtime" has the time to make his work. And he knows that if he gets the belt back, it will be a whole different ballgame.

"I'm more prepared for it," he said of regaining the title. "(The first time) I was a kid. I was a kid and they gave me the Wheaties box, they gave me the belt, I had everything and I didn't know how to handle it. This time around, I know how to handle it. I know what to expect out of everything. I've had the highest highs, I've had the highest lows and I think I've experienced pretty much everything. So this time around I'm gonna be way more prepared to hold it longer."