---
Miocic done being doubted; plans to keep shutting people up at UFC 226
July 06, 2018
---
Stipe Miocic
's mother, Kathy, couldn't believe it. Her high school-age son was about to take to the mat to wrestle someone he describes now as "A really tough kid," and the odds were stacked against the kid who would become the undisputed heavyweight champion of the world.
"They think you're gonna lose," she laughed, incredulous that anyone would doubt her son.
Miocic never forgot that reaction, and he thinks about it every time someone says he's going to lose a prizefight.
I've never seen my mom ever act that way. It wasn't cocky, but 'They think you're gonna lose, how dumb are they?' And she walked away. And ever since she told me that, I love shutting people up. I'm sick of always being doubted."
The doubters have been disappearing at breakneck speed over the last few years as Miocic began chopping down tree after tree in the heavyweight division, culminating in a first-round knockout of
Fabricio Werdum
in May 2016 that earned him the UFC world title. He's since put together three consecutive successful defenses over
Alistair Overeem
,
Junior Dos Santos
and
Francis Ngannou
, a UFC record that has many calling him the greatest big man of all-time.
"A lot of people think so, a lot of people don't," he said of the G.O.A.T. talk. "I don't really worry about stuff like that."
What he does worry about is keeping that belt at home in Cleveland, and he'll get a chance to add another successful defense to his record when he faces light heavyweight champ
Daniel Cormier
in the SuperFight that headlines UFC 226 in Las Vegas. If there are doubters, he will embrace them, but he promises to also disappoint them come Saturday night.
"And still," Miocic said. "Nothing's gonna change. He's a great fighter, but I match up very well with him. Another win. I keep my belt."
Those are words folks take seriously when coming from the mouth of Miocic these days, but earlier this year, many expected a changing of the guard when the 35-year-old defended his crown against fearsome number one contender Francis Ngannou.
"They were building him up as the next big thing and I had to put a stop to it," said Miocic, who won a shutout five-round decision over Ngannou in the main event of January's UFC 220 event in Boston. "He (Ngannou)'s got a great career ahead of him if he puts his mind to it, and he's gotten better. The more he gets better and the more fights he has, he's going to be amazing."
Those are encouraging words from the champion, but in the lead-up to the bout, it was clear that he wasn't happy with the way the hype was going.
"I wasn't really getting the respect, but I'm used to it by now," he said. "It's another day in the office."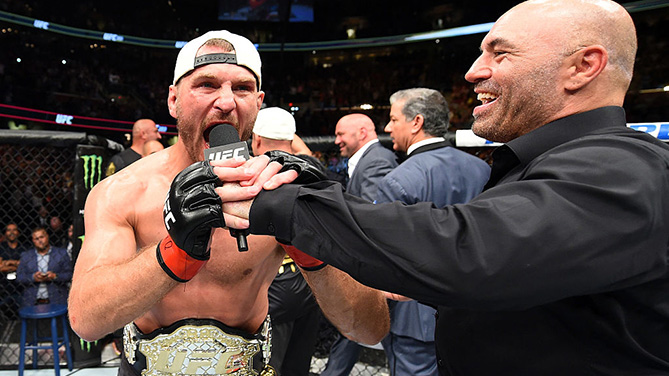 MORE UFC 226:
It wasn't just another day in the office on fight night, though. And while Miocic has had more spectacular knockouts and visceral performances, he may have not been better than he was on that winter night at TD Garden, and he put in a complete mixed martial arts effort to subdue his opponent and pick up the dominant win. It was a master class from the champion, and one that went according to plan.

"A hundred percent," he said. "Me winning. When I fought Ngannou, it was what I expected. He's a big man, tough, got a good chin, but it's what I expected. I was gonna win."

Miocic expects a similar outcome against Cormier, who the champ describes as "A humble guy who likes to fight."

In that sense, they're kindred spirits, so there is no bad blood or trash talk on display as the bout approaches. These are sportsmen ready to get into a fight.

"At the end of the day, it's business," Miocic said. "We're in there to beat the crap out of each other. He's gonna go out there and do his thing, I'm gonna go out there and do my thing, and what we do is punch each other in the face. We can be friends after, but we're here to fight."

If Miocic leaves Las Vegas with his title intact, it's another notch in his belt and another line for his growing resume for the world. But for him, it's business as usual, then back to Cleveland to await the arrival of his daughter with his wife Ryan until the next time he has to refer back to his mom's words."

"I have nothing to prove," said Miocic. "I just like shutting people up and I'm gonna keep doing it."